So, you own a BMW 3 series or are thinking of buying one someday? If yes, you should know that it deserves all the care you can give it. This is because the daily grind of shoes, spills, and muds can take a toll on your car's carpet.
And since stains on your vehicle's carpet are never good, you will want to keep the floors in good condition. But how, you ask?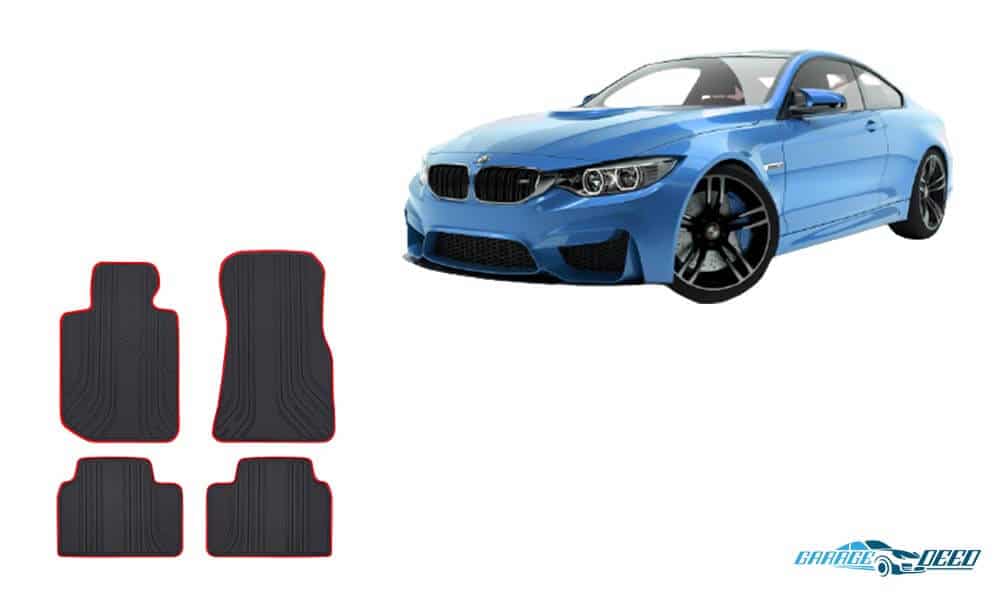 This is where floor mats for BMW 3 Series step in. These types of mats are designed to protect your car's interior against mud, grime, dirt, snow, and debris. The best part is that they are:
Durable and sturdy
Easy to clean
Waterproof
Unfortunately, with so many of these mats on the market, making the right choice can be really daunting. So, here is our list of the best floor mats for BMW 3 series available for every budget and need.
Best BMW 3-Series Floor Mats & Liners – Comparison Table
Here, we will be comparing the features of the best and most high-quality floor mats for the BMW 3-series. So, keep reading.
Top 11 Best Floor Mats for BMW 3 Series – Reviews
1. 3D MAXpider BMW 3 Series All-Weather Mats
These floor mats are our best overall because they offer complete interior protection from snow, salt, dirt, mud, and rain. More so, they boast a thermoplastic rubber surface that provides waterproof protection.
The best part is that the liners are made with high-precision laser scanning technology to ensure a custom fit. This technology also helps ensure the mats offer maximum coverage.
Pros
Raised edges for added protection
Anti-skid backing
Reduced noise and vibrations
Perfect fit 2012-2018 BMW 3-series
Cons
Fitment issues on the driver's side for BMW 328i
Also Read: Top Quality Floor Mats for Jeep Grand Cherokee
2. WeatherTech Custom Fit FloorLiner
Made from patented and high-density Tri-extruded material, these liners boast a rigid core for maximum strength. On top of that, each mat is engineered using advanced surfacing that channels away fluids and debris.
Additionally, the liners are laser measured to ensure a precise and consistent fit. This is designed to provide your vehicle's interior with maximum coverage and protection.
Pros
Wear and stain resistant
Made from odorless and safe TPE
High lip for holding liquids
Flexible under extreme temperatures
Cons
A little pricey

They can get dirty pretty

quickly
3. 3W Floor Mats TPE All Weather
The 3W Floor mats TPE All-Weather are built to provide a custom fit from edge to edge to complete coverage. So, if you have got a 2019-2020 BMW 3 series, these liners are worth considering.
You will also be happy to know that the liners are made from non-toxic and odorless TPE material. Therefore, you don't have to worry about any foul smell being produced even in high temperatures.
Pros
Waterproof and stain-resistant
Durable and resilient
Anti-slip surface
Easy to clean
Cons
Catches the clutch pedal at times
Has a sloppy fitting
4. BMW 82110439351 Genuine Factory OEM
Next up, we've got this complete set of mats designed to fit all BMW 3 series, including E90 and E91. However, they are not compatible with Xi models.
When it comes to features, each mat is equipped with Velcro attachments to ensure they securely stay in place. The Velcro also makes it easy to install these floor mats.
Pros
High-quality and durable
Offers a perfect fit
Sleek and stylish appearance
Excellent protection
Cons
No raised edges
Tough to clean
5. BMW 3 Series E90 & E91 Carpet Floor Mats
If you own the BMW 3 series E90 or E91, these genuine factory OEM mats might be worth investing in. However, they are designed to be compatible with the 2006-2011 BMW 3-series.
Sure, these liners feature a simple design. But one thing is for sure, they do offer maximum protection against dirt. On the flip side, they can be tough to clean.
Pros
Has BMW letters on drivers' mat
OEM quality and fit
Velcro pads to keep them in place
Can trap liquids in them
Cons
Velcro fasteners tend to

quickly

fall off

Lacks raised edges
6. Orealtrend Car Mats
Looking for heavy-duty and durable floor mats? If yes, these Orealtrend liners are made from high-density TPE material that is wear and weather-resistant. More so, they have a rugged and sporty design, which makes them ideal for track competition.
What's more? The mats boast 3D laser scanning technology to ensure they provide full coverage and protection. This helps keep snow, debris, mud, water, and other messes off your car's expensive carpet.
Pros
Safe and non-toxic construction
Stain-resistant and waterproof
Anti-slip backing
Easy to install and clean
Cons
Somewhat rigid design
Available in black color only
7. 3D MAXpider All-Weather Floor Mats
3D MAXpider prides itself in making some of the best all-weather liners for the BMW 3-series. Of course, this product is one of them. The best part is that the mats are precisely measured using a 3D laser to provide a custom fit.
More importantly, each mat features a soft foam layer to help minimize foot fatigue by providing cushioning. Also, included is an anti-skid layer to keep them in place and a sound dampening layer.
Pros
Sleek and stylish carbon fiber surface
Raised edge design
Durable multi-layer construction
No unpleasant rubber smell
Cons
8. IKO Motorsports Floor Mat
The IKO Motorsports Floor Mat is made from heavy-duty nylon. Therefore, there is no doubt that these liners are built with durability in mind. Best of all, the edges boast superior stitching to ensure a longer lifespan and protection from mud, grease, and moisture.
And you know what the best part is? The liners come with an anti-skid bottom to prevent them from sliding or slipping around on the carpet.
Pros
Easy to remove for cleaning
Made from light and breathable fabric
Holds up well to high traffic
Offers a soft underfoot feel
Cons
They tend to slide up
Fits only the BMW E90
9. GG Bailey BMW 3 Series Floor Mats
These are OEM quality mats constructed from 100% nylon yarn fiber for maximum durability. The nylon material also ensures superior stain protection from liquid spills, dirt, and even mud.
But probably the best part about the liners is that they are equipped with anti-slip automotive backing. More importantly, the mats come with a patented anchoring system to hold them in place, thereby preventing slippage.
Pros
Fade and stain-resistant nylon construction
Custom-fit
Luxurious and stylish design
Easy to clean by vacuuming
Cons
They tend to get dirty pretty fast

Edging is not

sufficiently

raised
10. Orealtrend Floor Mats Liners
The Orealtrend Floor Mats are built to provide un-beatable carpet protection by perfectly conforming to the contours of your vehicle. And for maximum protection and coverage, the liners utilize 3D laser technology.
Additionally, you will be happy to know that the liners are made using durable TPE materials that are non-toxic and odorless. Best of all, the materials are both temperature and wear-resistant.
Pros
Stain and weather resistant
Rugged and sporty design
Anti-slip bottom surface
Offers a precision fit
Cons
It may get a bit slippery when wet
11. LASFIT Custom Floor Mats
Similar to most high-quality floor mats for BMW 3 series, these liners are constructed from TPE materials for superior durability. The edges, on the other hand, boast a reinforced design. This is designed to prevent skidding and offer a comfortable feeling of feet.
But here is the best part; the liners can work with factory retention clips or posts to ensure maximum security. Therefore, you can be sure they won't move around on the floor or catch the clutch pedal while driving.
Pros
Perfect fit from edge to edge
Raised edge and groove texture
Easy to clean and install
Excellent thermal properties
Cons
Feels somewhat rigid
Not a perfect fit for all BMW 3 series
Buyer's Guide – What Features to Look Out for?
Depending on your budget and needs, there is a wide range of all-weather floor mats and liners available to choose from. However, the quality of these mats varies to a large extent.
For this reason, there are a few features you'll want to look out for when shopping for floor mats. These include:
Backing
You will want to pay attention to the backing of the floor mats. You must choose a set of liners with a hook for locking them in place.
The backing helps prevent the liners from sliding and getting in the way of your driving. Also, make sure the bottom is anti-skid.
Fit
Another feature to consider is whether the mat offers a perfect fit for your BMW 3-series. This is because some products will only fit specific BMW 3 models.
Some mats are designed to provide a universal fit, while others are custom-designed to fit your specific model. On the other hand, some liners come as a cut-to-fit option.
Generally, the best mat should provide a perfect fit for your car coupled with maximum coverage and protection.
Material
Additionally, you will need to consider the type of material the mats are made from. The best materials should be durable and also resilient.
More so, the material should be waterproof, stain-resistant, odorless, and non-toxic. Some of the best materials for floor mats are thermoplastic rubber and TPE.
Ridges
Often overlooked are the ridges of the floor mat. The ideal liner for your BMW 3 series should have raised ridges or edges all round.
These ridges come in handy when you want to prevent spillage to your car's carpet. So, look out for mats with ridges or grooves that can easily channel away liquids that collect behind the pedal. This will ensure the surface under your feet remains dry.
Thickness
The thickness of the mats is yet another factor worth considering. Generally, thicker floor liners are much better compared to their thin counterparts.
Thicker mats tend to be heavy and so they don't easily move around the floor space. More so, they are less vulnerable to cracking and are more effective at handling lots of mud, snow, or gravel.
Mat Color
Last but not least, you may want to consider the color of the mat. The right liner should complement the interior of your car.
You don't want to buy black floors, and your car's interior is gray or brown. The good news is that most mats are available in different color options to choose from.
Common Questions People Ask About the Floor Mats for BMW 3 Series
Still can't make up your mind? Here are answers to some of the most frequently asked questions about the best floor liners for the BMW 3-series.
Q: How should I clean my floor mats?
A: Most mats can be cleaned by regularly vacuuming or brushing them based on the material they are made from. You can also use soap and water to clean them.
Q: Should I buy laser-cut mats?
A: Yes. These types of mats offer a perfect fit from edge to edge. They are designed to safeguard the front, back, and sides of your vehicle's footwell.
Q: Are these mats prone to stain?
A: Generally, it depends on the material the liners are made from. However, most mats are built to be stain resistant.
Which is the Best?
Our top pick for the best-selling mats for BMW 3 series is the 3D MAXpider BMW 3 Series All-Weather Mats. It boasts multi-layer construction to ensure maximum floor protection. On top of that, it has anti-skid backing, raised edges, and comes in three color options to choose from.
Bottom Line
Whether you commute or run daily errands using your BMW 3 series, protecting it from dirt, grime, and snow is critical. Of course, there is no better way to keep your car's interior in pristine condition than with the best floor mats.